Hi Everyone! People love their pets, myself included. In this class, I'll take you step by step through the process of making a paper mosaic of your dog. So, what exactly is a "paper mosaic"? Well, we are using small bits of paper to make a larger image. That's a mosaic - made with paper - so... "paper mosaic"!
I'll make two dog portraits during this course. You'll see the creation of a light colored, long haired dog as well as a dark colored, short haired dog. I encourage you to watch all of the videos, even if they don't quite apply to your pet because they are all filled with great tips that may not appear in any other video.
We'll make the mosaic out of a variety of papers. You might like to take the "Preparing Papers for your Art" class so you will have lots of fun papers to pick from, but it is not a prerequisite. You'll need light and dark papers of all colors. Even if you have a white dog, you may end up using all sorts of pastel colors in your portrait! You can simply use magazine papers if you don't want to paint your own.
I have one dog (Annie) and two cats (Henry and Ollie). You'll probably be able to spot them all during the course! :)
You can scroll down to view the class curriculum and watch the Welcome video.

Let's get started!
I'll make these paper mosaic dog portraits during this course...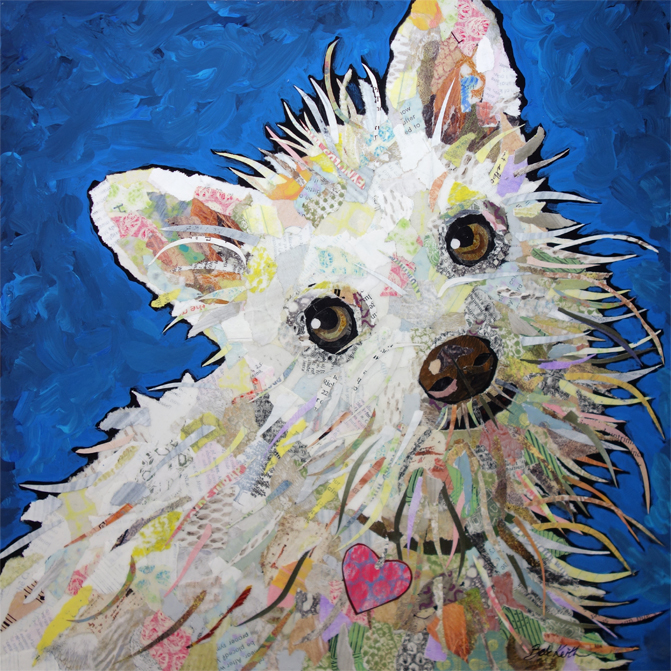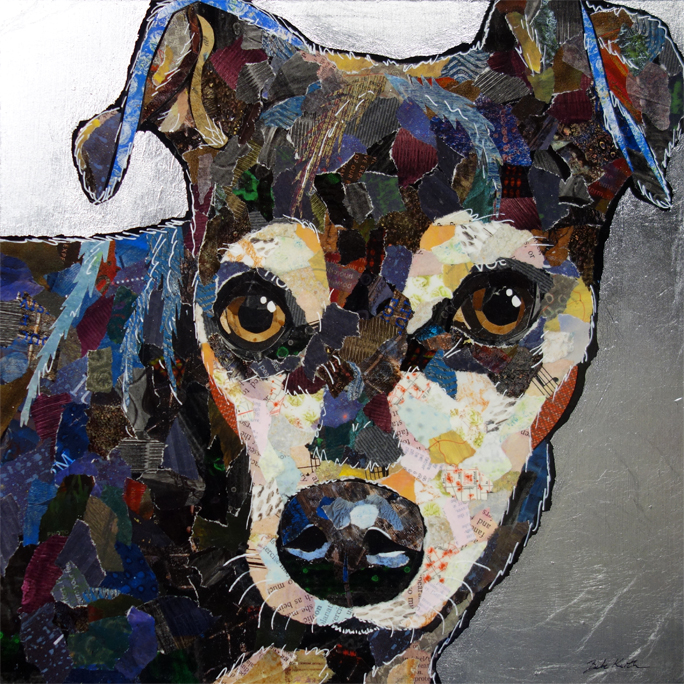 Here are some other dog portraits I've made...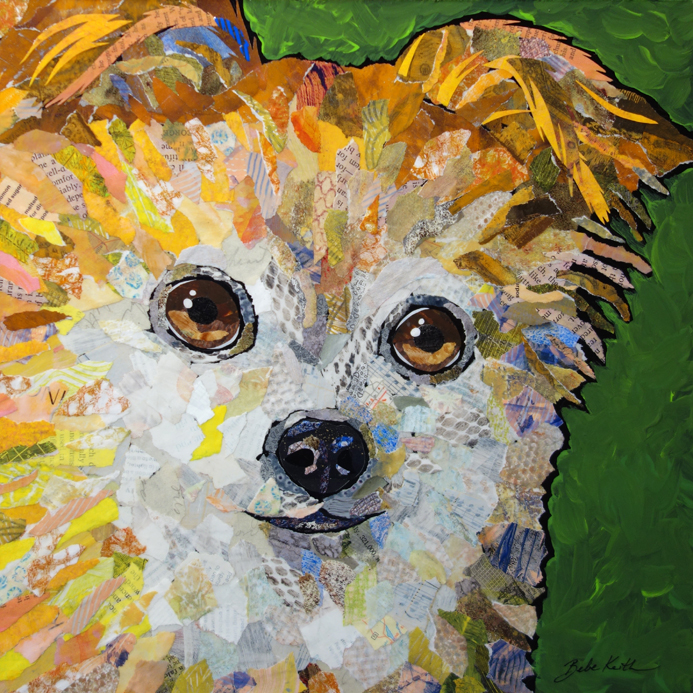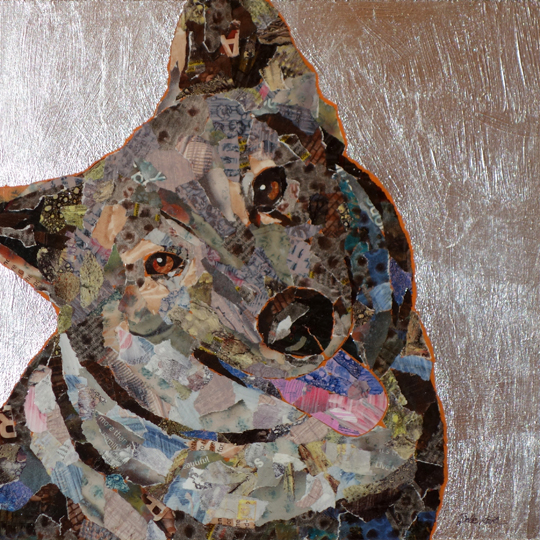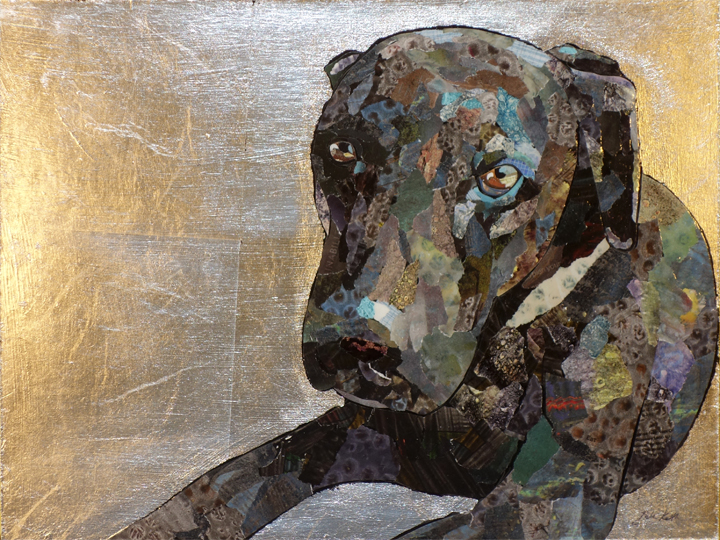 Dog Portraits Supply List
The supplies listed here are pretty close to what I used and can be replaced by different brands or glossiness levels.
Bare minimum list: thick paper for your base, magazines to rip up, ModPodge, a paintbrush, scissors.
More extended supply list:
Lesson 1 – Substrates:
(Please view the video first. The substrate you select depends on what you prefer after viewing the video. Here is my favorite...)
· Ampersand Hardbord (Item #14941-1212 Dick Blick) Comes in many sizes
· Golden Gloss Medium for the sealer (Item #00628-1115 Dick Blick)
· Golden Gesso (Item #00628-1175 Dick Blick)
· Foam Brushes
Lesson 2 – Design:

· Digital image of your dog, cropped and printed out to the size you need
· Pencil
· Carbon paper
· Scissors or paper cutter
· Tape
Lesson 3 through Lesson 7 – Working on the Paper Mosaic Dog Portrait:
· ModPodge (Item # 10047536 Michaels) I used glossy, but you can choose matte if you prefer.

· Papers for ripping, cutting, gluing. You can use painted papers from the course "Preparing Papers for your Art" or simply use magazines and other found papers.
· Brush - I use CraftSmart brand brushes. They are $8 at Michaels but they don't seem to have them on their website. The bristles are called "taklon" and they are great to use with ModPodge. Here is what they look like: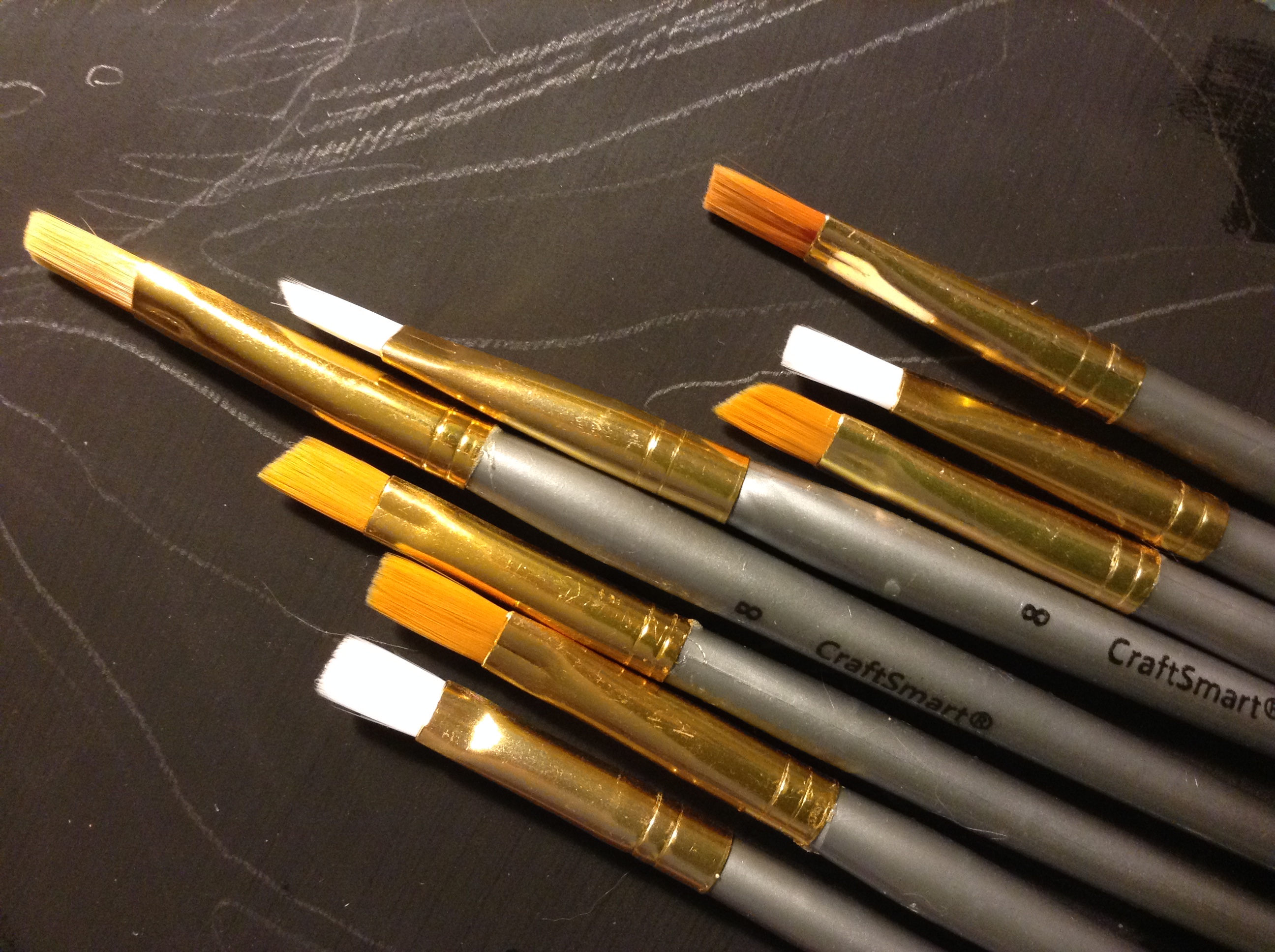 · Low lid for holding ModPodge
· Scissor
· Xacto knife
· Cutting mat
· Optional - Posca Acrylic Paint pen (Item #:PX89789000 at Wet Paint)
Lesson 8 – Painted background:
NOTE: You can just do more collage in the background instead of paint or leafing)
· Acrylic paint - brand of your choice

· Paintbrush - nicer quality helps
· Cup or palette for paint
Lesson 9 – Metal Leafed background:
· Adhesive Size (Item# 10012964 from Michaels)
· Metal Leaf (Item#27012-2050 from Dick Blick)
· Brush for applying adhesive (doesn't have to be a nice brush)
· Nice soft brush for brushing away the extra leafing. I use a badger brush, but they are expensive. Just use a soft brush and you'll be fine.
·Thin Black Sharpie to sign your work
Lesson 10 – Varnishing:
· Liquitex Gloss Varnish (Item #61670 Jerry's Artarama) Choose the glossiness level you desire.
· Foam brush
· Cup for varnish
Testimonials from this course:

"Thank you for this course Bebe. You had so many great tips. My favorite takeaways from this course can be used in non dog portraits too like the cut out box on white paper, and using metal leaf and paint backgrounds. I highly recommend." -J

Testimonials from my other online courses:
"I took your class twice in person, and now I'm taking it online. I'm a devoted student! But you know, seeing you make a mosaic is really, really helpful - thinking through layering, planning placement of shards, learning how to tear paper if you don't want the white lines, and knowing it's okay to cut pieces when you want clean lines. Plus I love seeing your kitties are in the background! Thank you for making the online classes." - P
"Your filming crew (you) is amazing. I could see everything so well. Now that I have looked at the whole series, I can start doing a project. You are such a good teacher, and I felt like I was right there with you. Thank you for doing all the steps so that they are readily understood and for adding the little "tidbits." The kittys in the background are just darling and look so cozy in that little basket. Again, you really have a great class here, and you are so natural on film." - J
"Finally finished this class. So much great info. I especially like the tips about tissue paper. I used it for a piece and helped get rid of the "flat" look. Thanks so much!!" - J
Your Instructor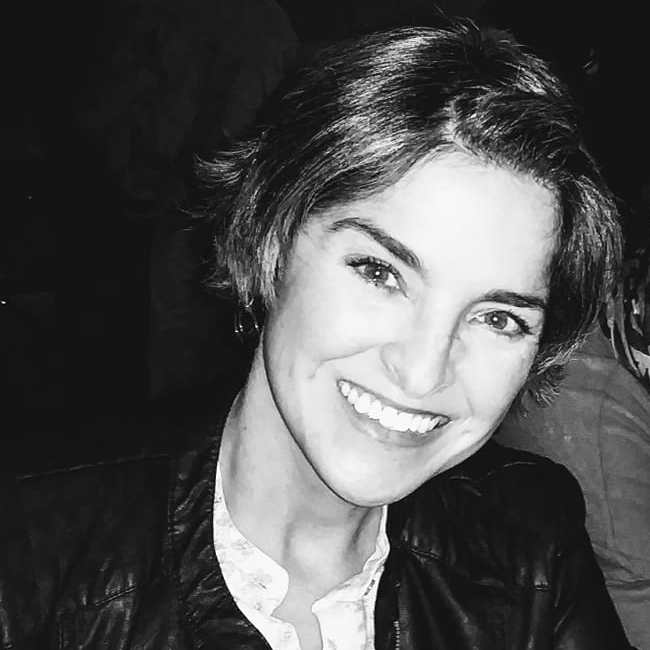 Bebe Barbara Benson Keith is a mixed media artist in St. Paul, MN. She began her professional art career as a glass mosaic artist and created over 500 pieces, large and small. These days she's deep into paper mosaic collages and loves it!
She has also been kept busy as a public artist, designing and creating works for hospitals, universities, libraries, an event center, the MSP airport and more.
She has published three books illustrated in glass mosaics. You can find them on her artist website at BebeKeith.com.
Frequently Asked Questions
When does the course start and finish?
The course starts now and never ends! It is a completely self-paced online course - you decide when you start and when you finish.
How long do I have access to the course?
How does lifetime access sound? After enrolling, you have unlimited access to this course for as long as you like - across any and all devices you own.